It's Bachelor tradition to have an episode dedicated to the show's beloved rejects, kooky castoffs, and sworn blood enemies. The tell-all special usually acts as a last minute audition reel for Bachelor in Paradise, so all of the contestants come ready to make an impression. Unfortunately, that impression usually comes in the form of Maury-esque screaming matches and particularly hideous fashion choices.
Instead of a regular recap (because how do you recap two hours of what sounded like rabid squirrel chattering), I'm arbitrarily awarding this season's contestants meaningless titles. Let's go!
MOST IMPROVED EDIT: ELIZABETH LIZ
We all know Elizabeth Liz as the girl who slept with Nick at Jade and Tanner's Wedding™. We might also recall her batshit insane contestant bio that casually mentioned murder, nose picking, and a deep hatred of golf. Those days are behind Elizabeth Liz now. She's living her best life in an extremely confusing jumpsuit evening gown (how do you pee in that?!) and dispensing some sage advice about friendship and finding a man who loves you for who you are. You go, Elizabeth Liz! (please don't murder anyone).
LITERAL SAINT: KRISTINA
Nick dumped Kristina shortly after their date when she told him about her horrific past in a Russian orphanage. It's a heart-wrenching story that no one could forget. Except Chris Harrison, who decides to replay the entire painful montage for Kristina and the audience!
"You've got tears in your eyes," Chris Harrison notes. GEE I WONDER WHY. Kristina is a saint for not hauling off and punching the Botox straight out of his face. He continues to interview her, and she reiterates how happy she is to have been adopted, because the alternative if she stayed in Russia was LITERALLY TEENAGE PROSTITUTION.
Prior to Kristina's moving interview, Corinne and Taylor had been fighting about naps. WUG.
THIRSTIEST: JOSEPHINE AND WHITNEY
Last we saw Whitney, she was left somewhere in the Bahamas. It wasn't surprising, considering she didn't speak a word up until her two-on-one date. But boy was she talkative at the Women Tell All! She tried throwing her two cents in at every opportunity, but I can't recall any of it because she is very forgettable.
Josephine was also parched. She showed up looking like she chugged a bottle of bordeaux and snatched the upholstery right off my Italian great grandmother's couch:
Josephine has been the Gretchen Weiners to Corinne's Regina George all season and doesn't fare well without a queen bee to serve. She tries to jump on Taylor with bullying allegations (which, really?) and goes crazy when Rachel comes out, but she's transparently desperate for some more screen time (or that trip to Mexico later this year).
MOST LIKELY TO GO TO PARADISE: THREE WAY TIE
Alexis, obviously. From the minute she got out of the limo in her shark suit, she captivated the entire cast (except for Nick, he has no taste). Having just celebrated her boobthday, she wore a low cut dress to the reunion and had a few great one-liners about being friend zoned by Nick. Alexis isn't here for the dumb drama – during Corinne and Taylor's fight, she slouched in her seat and desperately scanned the room for some clear liquor. Pair her up with Canadian Daniel and let the shenanigans begin.
I don't remember much about Christen, but I think she's secured herself a spot on Paradise based on her reactions alone.
I could see Jasmine on Paradise too – the entire show is essentially the ill-fated volleyball date. Jasmine also has zero time for idiots, so her reactions to the men of Paradise should be gold.
THE WORST: CORINNE
Most of this show was spent on Corinne and her outrageous behavior. Her and Taylor fought and I can't make sense of what they said, so just know that it was deeply childish and dumb.
The thing about Corinne is she's not as stupid as she acts – she had an alternative fact ready for everything the girls accused her of:
You took your top off at the photo shoot date! Well, Brittany's costume was topless the whole time and no one got mad at her.
You talked mad shit about Taylor all the time! Well, that was only because she said she wouldn't be my friend. 
You stole Nick away from everyone! Well, if we're here for Nick, I wanted to focus my attention on him instead of the other girls.
You took a nap during a rose ceremony! Well, everyone took a nap at some point during the show!
You are an adult woman with a nanny! Well, Raquel is so much more than a cleaning lady and I didn't know what else to call her!
Let us gaze into Corinne's future: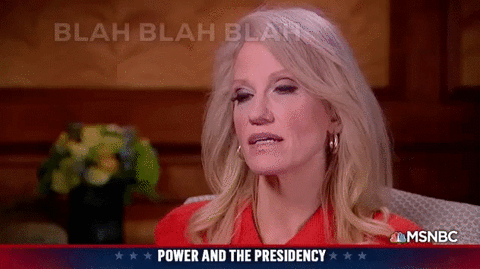 A lot of her answers reminded me of Chad. Perhaps they'll meet on Paradise – they seem like they're made for each other.
WHO
ARE
THESE
PEOPLE?