Rachel meets her remaining husbands' families this week, and what starts out as an overwhelmingly positive episode slowly devolves into some really uncomfortable TV viewing!
ERIC'S HOMETOWN: BALTIMORE
Up to this point, I'd felt pretty confident that Peter was going to be the last husband standing. The one true bearer of a Neil Lane ring.
NOT ANYMORE. After this hometown date, I am #TeamEric forever.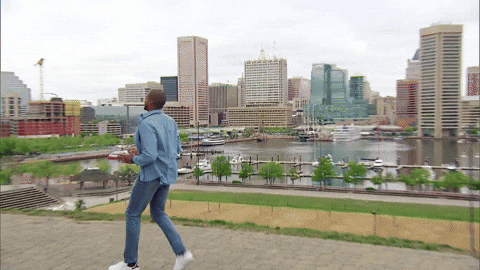 In Baltimore, Eric and Rachel check out the city and head to his old neighborhood to play basketball. Rachel plays ball in heels! How?! During their game, Eric's cousin Ralph stops by to tell Rachel how awesome Eric is and how he's proud of the great role model that Eric has become. It's very sweet!
Rachel starts to get nervous as they head to Eric's aunt's house to meet the rest of his family, but the minute they walk in they're greeted with a cheer and everyone does their After the Final Rose dance. Eric's family is welcoming and excited and it's just really nice to see a hometown date that isn't a dramatic mess for once!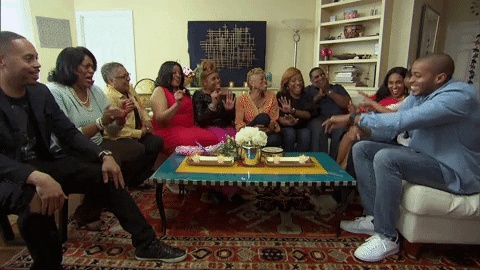 Also, there's Eric's Aunt Verna (she gave a TED Talk!) who gets Rachel to open up about her experience as the first black Bachelorette. Rachel admits that she's felt a lot of pressure with every guy she's let go, but that she has to be true to herself with who she chooses and shouldn't be judged differently than the other Bachelorettes. Aunt Verna is supportive and reassures Rachel that she's doing great. Plus, she thinks Eric is ready for love, for what it's worth.
Meanwhile, Eric talks with his mom and dad. In the past, he referenced their broken relationship affecting him as a kid, but as an adult he's able to have positive conversations with both. Eric's mom reiterates that she always loved Eric, but made sure to push him to stand on his own after seeing so many of her relatives bail out the men in their lives. Boundaries!
After an evening of overwhelming positivity and love, Eric gives a toast at dinner thanking his family for making him the man he is today. He says he wouldn't be the kind of person who could attract a woman like Rachel without them. Cheers to that!
BRYAN'S HOMETOWN: MIAMI
Rachel flies to Miami to hang out with Bryan. There is some excellent Miami Vice inspired stock music playing as Bryan and Rachel make their way around town. Everything looks extremely hot and humid and sweaty, but that doesn't stop these two from salsa dancing, eating spicy tortas, and playing dominos with old dudes.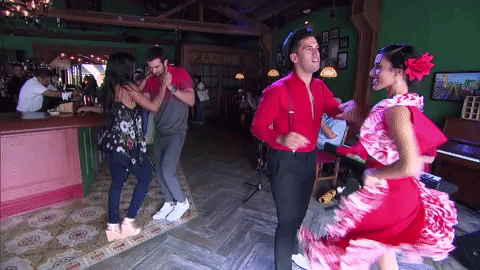 At this point, I'm over Bryan. Yes, he's handsome and can speak conversational Spanish really well, but he has zero substance outside of complementing Rachel and aggressively making out with her. What's your life like, bro? Do you have friends? Pets? Do you have a hobby outside of kissing all the damn time? Does your tongue ever get fatigued??
The thing is, Rachel is INTO Bryan. She doesn't care if he's almost 40 and maybe doesn't have friends or hobbies. In my professional diagnosis, she's dicknotized.
Rachel is so enchanted by Bryan that she is blind to the dozens of red flags that shoot up when they go to his mother's house. Remember when Bryan said his last girlfriend broke up with him because of his mom? SHE HAD GOOD REASON TO.
Eric's mom was all about boundaries, but Bryan's mom is NOT ABOUT THAT HEALTHY SPACE. You guys, Olga is intense. For one, she refers to Bryan as "The love of my life" as her husband sits next to her. She says her nearly 40-year-old son is the MOST IMPORTANT THING IN HER LIFE. During her conversation with Rachel, Olga says if Rachel fails to make Bryan happy, Olga will kill her. Rachel laughs at that, but Olga reiterates that for a woman to separate her and her son, that would be terrible.
Bryan talks to Mommie Dearest, and she makes it clear that she is NOT on board for this journey.
Bryan: Rachel is the one
Olga: LOL you dated so many other women already like a TV show is going to work
Before they leave for the night, Olga reminds Rachel that "you marry the family, too". Just as that warning starts to sink in, Bryan tells Rachel he loves her and she's sucked back in.
PETER'S HOMETOWN: MADISON
Next stop is Madison. We are here for a grand total of 10 minutes. Peter and Rachel poke around a farmer's market and get drinks with his friends. The producers make sure to only invite his friends who are in interracial relationships, which seems weirdly heavy handed and kind of exploitative! After drinks, Rachel and Peter go to meet his parents, siblings, and their offspring. Everyone has heavy Wisconsin accents but is generally pleasant!
Peter doesn't get much screen time. His family is nice and they seem to like Rachel, but everyone is evasive when she asks if Peter is ready to propose. In real life it makes total sense that Peter would be nervous about proposing to someone he's only known for a few weeks, but that's what you signed up for, my dude! He also doesn't say that he's falling in love with Rachel, so things are starting to look a bit uncertain for Peter.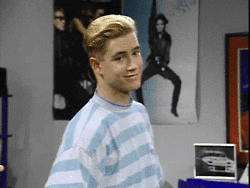 DEAN'S HOMETOWN: SOMEWHERE IN COLORADO, I THINK
Peter's date is edited to nothing so we can spend an uncomfortable amount of time in Colorado with Dean's estranged family. We learn that Dean hasn't been in the same room with his father and all of his siblings for something like EIGHT YEARS. So this hometown date is probably going to go terribly!
Dean and Rachel ride ATVs around, and even going fast on a four wheeled death machine can't cheer Dean up. He's miserable. Rachel tries to reassure him that everything will work out, but he's experienced enough to know that it's going to do the opposite of working out.
Dean's dad changed his name to Paramroop when he converted to the Sikh religion. He also grew a beard, wears a turban, and replaced all the furniture in his house with pillows. Rachel, Dean, and his siblings are all game for some gong meditation and a dinner of bean stew served out of plastic IKEA bowls ("mung beans are the secret ingredient," says Suntantar, Dean's stepmom).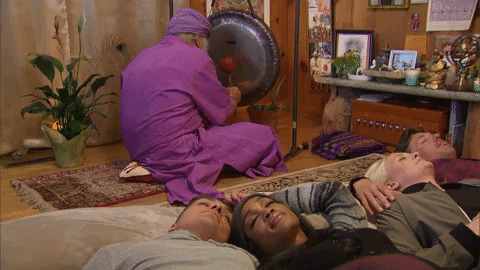 While this is all "eccentric", as Dean puts it, it's not his father's lifestyle that has put strain on their relationship. It's the fact that his dad is a passive-aggressive jerk. He tells Dean that "I'm glad you got to hang out with beautiful women" and that "You've got a whole new energy in your chakras, I didn't think you had it in you". Things boil over when Dean and Paramroop sit down and Dean says that he wished they could have grown closer after his mother's death instead of apart. His dad sneers at him and accuses him of living in the past. Dean pleads with him to just have a conversation, and his father claims that Dean thinks he never loved him. Frustrated, Dean tells Paramroop that "I love you regardless", to which Paramroop responds "Whatever" and storms out.
I'm emotionally exhausted just typing all that, and this fight unfortunately gets dragged out for ANOTHER 15 MINUTES. Everyone cries. Rachel tries to smooth things over, but Dean's dad tells her he's done but honors "whatever this thing is about". So yeah. Rough stuff!
ROSE CEREMONY
This episode has taken a dive since we started with Eric's lovely date in Baltimore, and it only sinks lower with the Rose Ceremony. The guys show up like they're in a shoot for GQ about what to wear to funerals.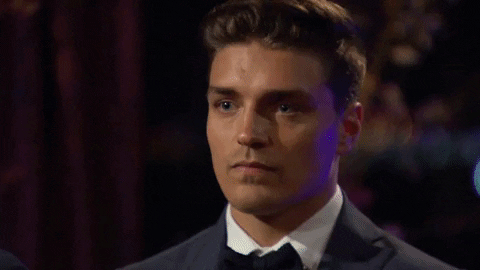 Rachel cries, knowing she has to send someone home after meeting their family. She gives roses to Bryan, Eric, and Peter, meaning Dean is going home.
"I'm not sure you're ready for the same things I'm ready for," Rachel tells him.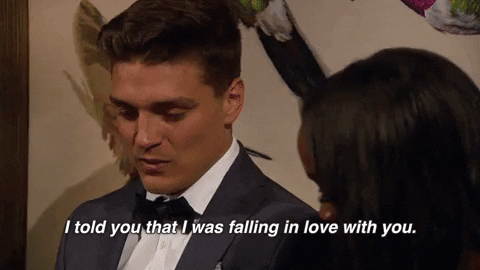 WUGGGGG.
With Dean gone, I was sure that he was going to be the next Bachelor. But TWIST – he's heading to Paradise instead. Could that mean Peter or Eric is the next Bachelor (assuming Rachel remains dicknotized by Bryan until the bitter end)? I DON'T EVEN KNOW ANYMORE.